I've been working on Arrow for a while now, but I think it's time I put it to rest for a bit and write down what has been completed.
I've learned lots of fun things from this project (and some horrible things…like AX.25 and the FCC limitations on the 2M band's data rates!) and I hope someone in the future can make use of it or would be willing to work with me to encourage further development!
What is It?
Currently, Arrow is a full fledged TNC which means the following KISS parameters are supported: TX Delay, TX Tail (why is this even a thiiiiing?!?), Slot Time, and Persistence with built-in BLE connectivity and a 2M radio which is frequency agile. In addition to AFSK for AX.25, the radio supports FSK, GFSK, MFSK, and OOK along with M-ary options.
What is a TNC?
TNC for the uninformed stands for Terminal Node Controller in the amateur radio space….Yeah, I didn't get much from that the first time I heard it either. In fact, I still don't. I recommend reading the Wikipedia page for a primer.
In short, a TNC is a modem which was used in the early days of packet radio (actually lives on today mainly in APRS) to send digital data from your computer over audio links. TNCs were fantastic because they allow anyone with a radio capable of sending audio (the most common kind when TNCs were all the rage) to send digital data. You can think of it as the cooler cousin of your 56K dial-up modem, but typically way slower.
TNCs were originally used around about the same time the internet was in it's infancy. The infrastructure and cost at the time for the internet was substantial; so instead amateur hobbyists would setup internet-like networks using what amounts to their walkie talkies, their home computer, and I hope you can guess it at this point – yes, their TNC.
Why did I do it?
I want to explore and eventually create a new standard for packet radio in the Amatuer space which could provide voice, and data. While I'm still far from the dream I knew the solution would need the following:
Use modern digital modulation techniques for better BER at low SNR.
Reverse compatibility or support of AX.25 for APRS.
Cheap to drive adoption
Built-In Radio and Frequency agile
Current Specifications and Capabilities
Hardware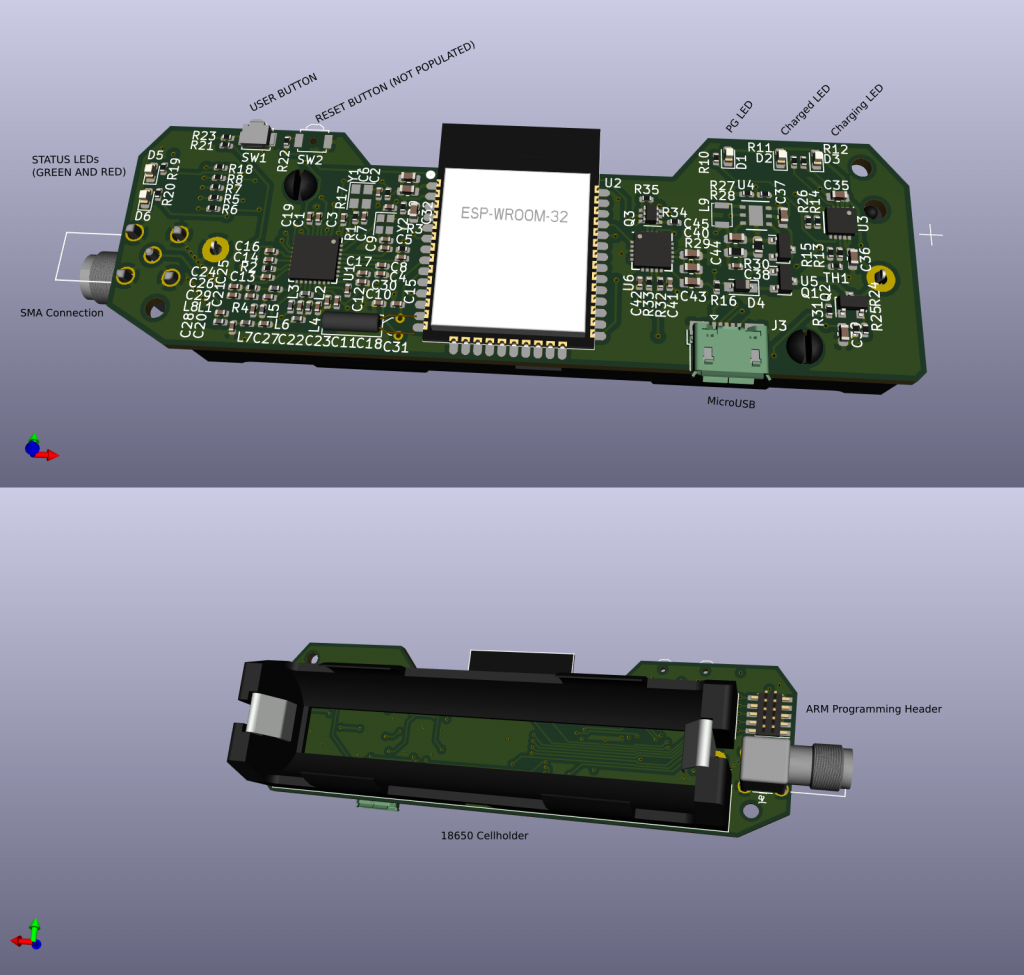 TI (CC1200) RF Transceiver IC with Balun + Matching Network for 2M (no PA at the moment)
ESP32
18650 cell w/ built-in charger
Micro-USB connection for charging and UART access for debugging
JTAG port
Status LEDs

TX
RX
Battery Charging
Battery Charged
Capabilities
Arrow uses the KISS protocol over the Bluetooth SPP profile. This means when Arrow is connected to a computer, tablet or phone it presents itself as a virtual serial port. The KISS protocol is one of the standardized methods used to communicate and configure TNCs; therefore, it is well supported by existing programs (LinBPQ), apps (APRSDroid), and kissattach (Linux's ax25-tools).
The uC on-board (ESP32) directly samples data from the CC1200 to decode FM AFSK BELL202 utilized for the standard 1200bps AX.25 used for APRS. Here you can see a video using two arrows to send a ping request over AX.25.
This combination provides what amounts to a plug-and-play solution for linking Arrow into existing Amatuer Radio solutions. The combination does have some limitations I hope to address (see below), but I believe hits most of my goals listed above.
Limitations
The current implementation has the following limitations:
The CC1200 does not support LoRa or PSK.
The output power is very low (+15dBm) and a PA must be added for this to be viable solutions. Please reach out to me if you're willing to help.
Bluetooth SPP is not supported by iOS, but luckily the code can be adjusted to use a BLE GATT/GAP setup instead.
Learn More
Here is a presentation I've done on Arrow
Where can I get one?
I don't believe the current solution is viable with its low output power. It does work well as an APRS receiver. If you're interested in purchasing one feel free to contact me via this forum. The code and electrical design files can be found here. Hack away.